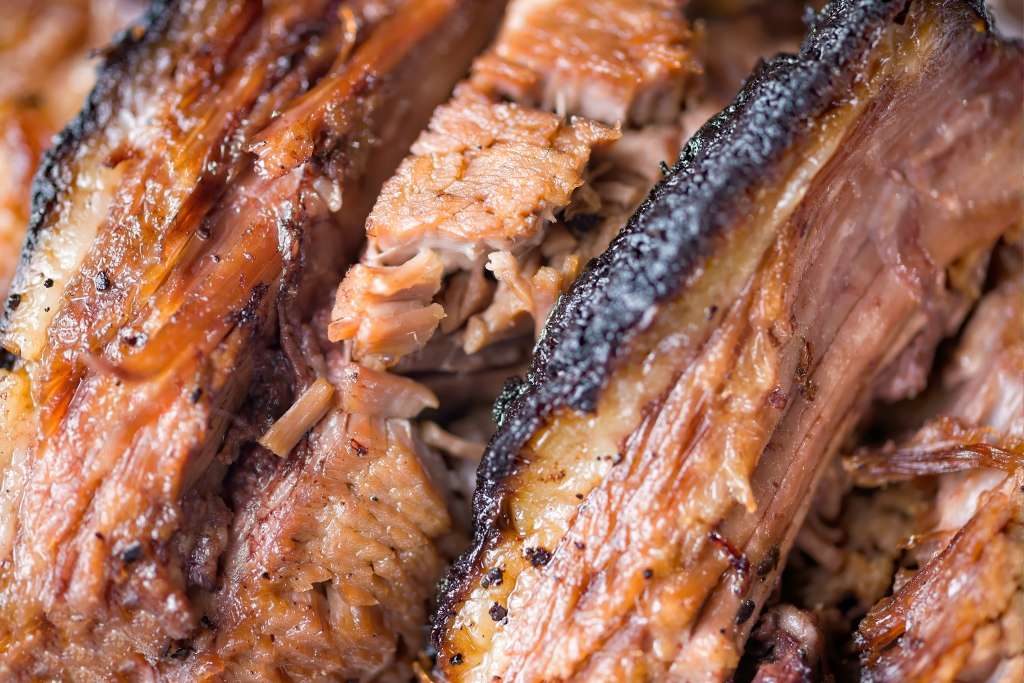 Serves 10-12 people
The Texan barbecue brisket is a great recipe to use if you have a crowd coming over as much of the work is done before your guests arrive. It is a cut that is used a lot in the US
Baked sweet potatoes and chargrilled corn-on-the-cobs with parmesan cheese grated on top, are delicious served with this Texas barbecue brisket. You could also use butternut squash or Roosters as an alternative to the sweet potatoes. You can cook them directly in the coals wrapped in tinfoil or if you prefer, cook in a preheated oven at 200°C (400°F, gas mark six) for 30 minutes.
         For the brisket:       
   3kg (6½lb) of boned, rolled beef brisket
500ml (18fl oz) of beef stock (stock cubes are perfect!)
For the barbecue sauce:
1 tbsp of Donegal rapeseed oil
1 small onion, finely chopped
3 garlic cloves, crushed
500ml tomato ketchup
100ml Worcestershire sauce
5 tbsp of lemon juice
2 tbsp of light brown sugar
1 tbsp of malt vinegar
2 tsp of Dijon mustard
1 tsp of Tabasco sauce
1 tsp of dried thyme
For the rub:
2 tbsp each of chilli powder and mustard powder
Sea salt and freshly ground black pepper
One dried bay leaf, finely crushed
1 tbsp each of paprika
ground cumin
garlic powder
black pepper
caster sugar
Barbecue sweet potatoes, sour cream & chives:

Serves eight to 10
10 medium sweet potatoes, scrubbed clean
2 tbsp of Donegal Rapeseed oil
200ml carton of sour cream
2 tbsp of fresh snipped fresh chives
Sea salt and freshly ground black pepper
Barbeque sauce:
To make the barbecue sauce, heat the oil in a frying pan, then cook the onion and garlic for a few minutes until softened, but not coloured.
Add the tomato ketchup, Worcestershire sauce, lemon juice, brown sugar, vinegar, mustard, Tabasco and thyme, stirring to combine.
Season to taste and simmer for 20 minutes until the sauce has slightly reduced and thickened, then blitz it with a hand blender to a smooth purée.
Preheat the oven to 140°C (275°F, gas mark one), or you could use a slow cooker.
Rub:
To make the rub, mix the chilli powder with the mustard powder, paprika, cumin, garlic powder, ground black pepper, caster sugar and ground bay leaf. Rub this all over the beef brisket and set aside at room temperature to allow the flavours to develop until needed.
Pour the beef stock into a large roasting tin/casserole pot and then stir in half of the barbecue sauce
10 hour slow-cook Brisket:
Add the beef brisket and then cover tightly with foil. Place it in the oven or slow cooker and cook for 10 hours until the meat is so tender that you can gently push a fork into it. The beef can be prepared the night before – just leave it to cool in the tin, covered with the foil. Do not refrigerate.
Barbecue sweet potatoes, sour cream & chives:
Rub each sweet potato with a little oil and salt, then wrap each one in a double layer of foil. As soon as the barbecue coals are glowing red, put the potatoes directly on them.
BBQ the Potatoes/squash and sweetcorn:
Cook for 15 minutes, then turn with tongs and cook for another 15 minutes. Remove one, unwrap and check if it is cooked through. Once the sweet potatoes are cooked, they can be put to one side of the grill to be kept warm.
Chargrill the corn-on-the-cob for 5-10 minutes, turning frequently.
To make the sour cream and chives, place the sour cream in a serving bowl and stir in the chives, then season to taste. To serve, peel back the top of the foil from each potato and split open, then top with a spoonful of the sour cream and chives.
BBQ the Brisket:
To finish the beef, get a barbecue fired up and wait until the coals are completely ashen – you want a low, not fierce, heat. Take the beef out of the roasting tin and cut it into 10-12 thick slices, then place on the barbecue to char. Cook for a few minutes, turning it carefully with tongs, until it's lightly charred all over and well heated through.
Arrange on warmed plates and serve with the remaining barbecue sauce, the corn-on-the-cob and barbecue-baked sweet potatoes on the side.