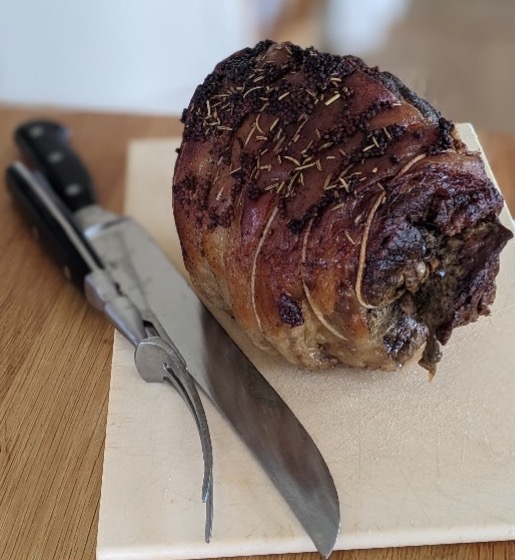 5kg Rolled beef Brisket.
Olive oil
1 large onion
Sprig of Rosemary
2 heaped teaspoons wholegrain mustard
Potatoes veggies and Yorkshire puddings to your taste
Put a cast iron saucepan on a high heat, add a glug of olive oil and brown the brisket on all sides.
Coarsely chop in the onion and add salt and pepper.
Placing fat side up in the pot, put your rosemary and wholegrain mustard on top
Add half a glass of water.
Put the lid on the pot (if you are using a roasting tray seal with two layers of tinfoil) and place in a preheated oven 160 degrees centigrade
Cook for 4 hrs adding another half glass of water half-way through.
Remove the meat and let it to rest for 10-15minutes.
Use the lovely residue to make a really nice rich gravy (remembering to pour off the fat first!)
Add Roast potatoes, Yorkshire puddings and veggies to your taste.